Composer from Värmdö, Sweden. Studies include music production at Rytmus, composition at Gotlands tonsättarskola and the Royal college of music in Stockholm.
I make music to all kinds of media ranging from games and mobile apps to artmusic pieces for different ensembles and orchestras. The pieces I have made includes works for Norrbotten Neo, Blåsarsymfonikerna, Södra Latins kammarkör, Ivo Nilsson + Tora Thorslund, Arméns musikkår, Malva-kvartetten and Stockholm saxophone quartet. I have also made several pieces for electronics, my latest was an audio-visual installation at Stockholm concert hall "Surfing soundwaves - Baltic sea" that was a part of last year's summer exhibition.
My greatest passion is making music to physical energy and movement. Specializing in creating soundprints that with music captures and recreates physical experiences and moments of flow. Read more about it in the category "Moving sound".
I'm also passionated about enhancing different places, experiences and brands with custom made music and soundscape. The idea is to create a complete solution where associative thinking through music opens up for greater experiences in the present (for example during an event or exhibition).
UPCOMING AND RECENT STUFF:

I recently got elected into the Swedish society of composers (FST - föreningen svenska tonsättare)! I'm very happy about that as it gives me another forum to meet and work together with my composer colleagues and friends. Check out my profile here --> http://fst.se/tonsattare/rosanna-gunnarsson
From 3/6 to 3/9 an Exhibition called "Twirling Shadows" by photographer Peter Bodhi Anand Ullberg will be shown at Mälsåker Castle. I have made music inspired by the pictures and the castles that will accompany the exhibition. Read more about it below, and under "Showreal" you can hear the music.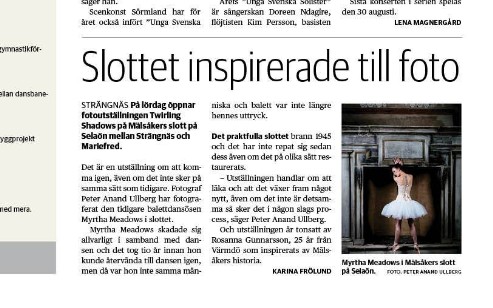 27-28/5 "Apnea" - a dive in sound was shown at Ljud och genusfestivalen in Gothenburg http://atalante.org/projects/konstmusiksystrar-%E2%86%92-ljud-genusfestivalen/
My latest piece "Apnea" - solo for baritone saxophone, was performed by Linn Persson (https://www.linnp.se/) 31/3 at Uppsala stadsbibliotek ---> https://vimeo.com/210941042
A newly written piece called "Surfing på svenska/Surfing in swedish" was performed by Jesper Nielsen (guitarr) and Isabell Gustavsson-Ny (piano) on march 18th in Västerås concert hall.
An article about it can be read here --> https://www.vlt.se/logga-in/surfing-pa-svenska-i-konserthuset
Here's a link to a news report about my piece at Stockholm concert hall. It was aired on SVT 1 (swedish national television) 13/7-16 http://www.svtplay.se/klipp/9550110/konstmusiksyst...http://www.svt.se/kultur/musik/konstmusiksystrar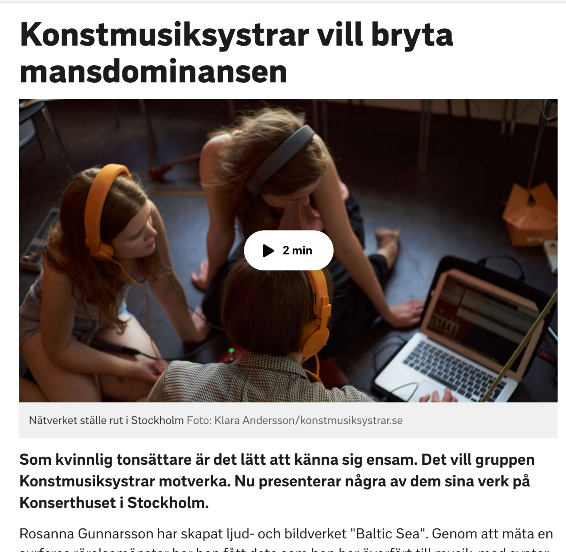 A tv-show on SVT 1 where the intro-theme and additional music is made by me http://www.svtplay.se/video/10574780/sveriges-bast...

I have an instagram @composer_ontheroad were the idea is to capture moments of sound in my everyday life and on travels - go check it out!