Composer and Sound artist from Värmdö, Sweden. I make music to all kinds of media ranging from games/media to sound installations and art music pieces for different ensembles and orchestras.
The pieces I have written include works for Norrbotten Neo, Blåsarsymfonikerna, Södra Latins kammarkör, Ivo Nilsson + Tora Thorslund, Arméns musikkår, Malva-kvartetten, Drottningholm Barock ensemble and Stockholm Saxophone Quartet. I have made several pieces for electronics and different types of installations, for example an audiovisual installation at Stockholm concert hall "Surfing soundwaves - Baltic sea" that was part of the summer exhibition in 2016. A similar installation was commissioned by Swedavia airports in 2018, and is currently exhibited at Stockholm Arlanda (Terminal 5). Studies include music production at Rytmus, composition at Gotlands tonsättarskola as well as the Royal college of music in Stockholm.
Another part of my work is writing soundtracks for shortfilms and TV - for example I made the music to a Kristallen nominated documentary series that was aired on SVT in 2016 ("Sveriges bästa hemtjänst").

I'm interested in enhancing different places, experiences with site specific music, as well as creating sound installations and environments.
I'm a member of the Swedish society of composers/Föreningen svenska tonsättare, Board chair in Konstmusiksystrar/Sisters in Art Music (
www.konstmusiksystrar.se
), a board member in Uruppförandeklubben, Young Nordic Music/Ung nordisk musik (UNM) and Stockholm art music center (SAMC).
UPCOMING AND RECENT STUFF:

- I'm very excited and happy to have my piece "Surfing soundwaves" exhibited at Stockholm Arlanda Airport. It stands next to gate F32 at the newly opened pier and you can visit anytime you find yourself at Arlanda Terminal 5!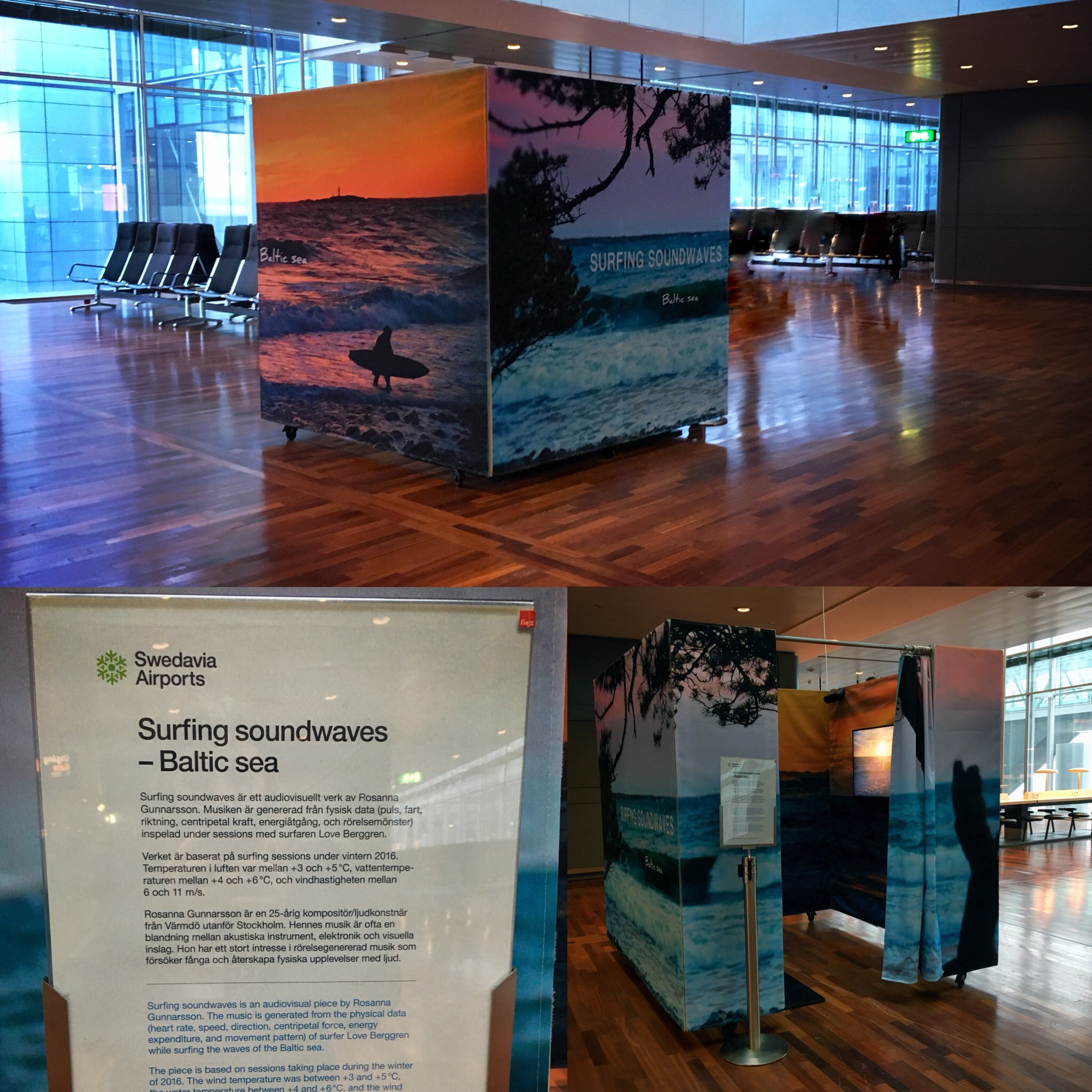 - During Kinnernet winter gathering 2018 at Kåseholm Castle in Österlen, I collaborated with Kåseholm and put up a sound installation in their chestnut tree (the oldest and largest one in the nordic region).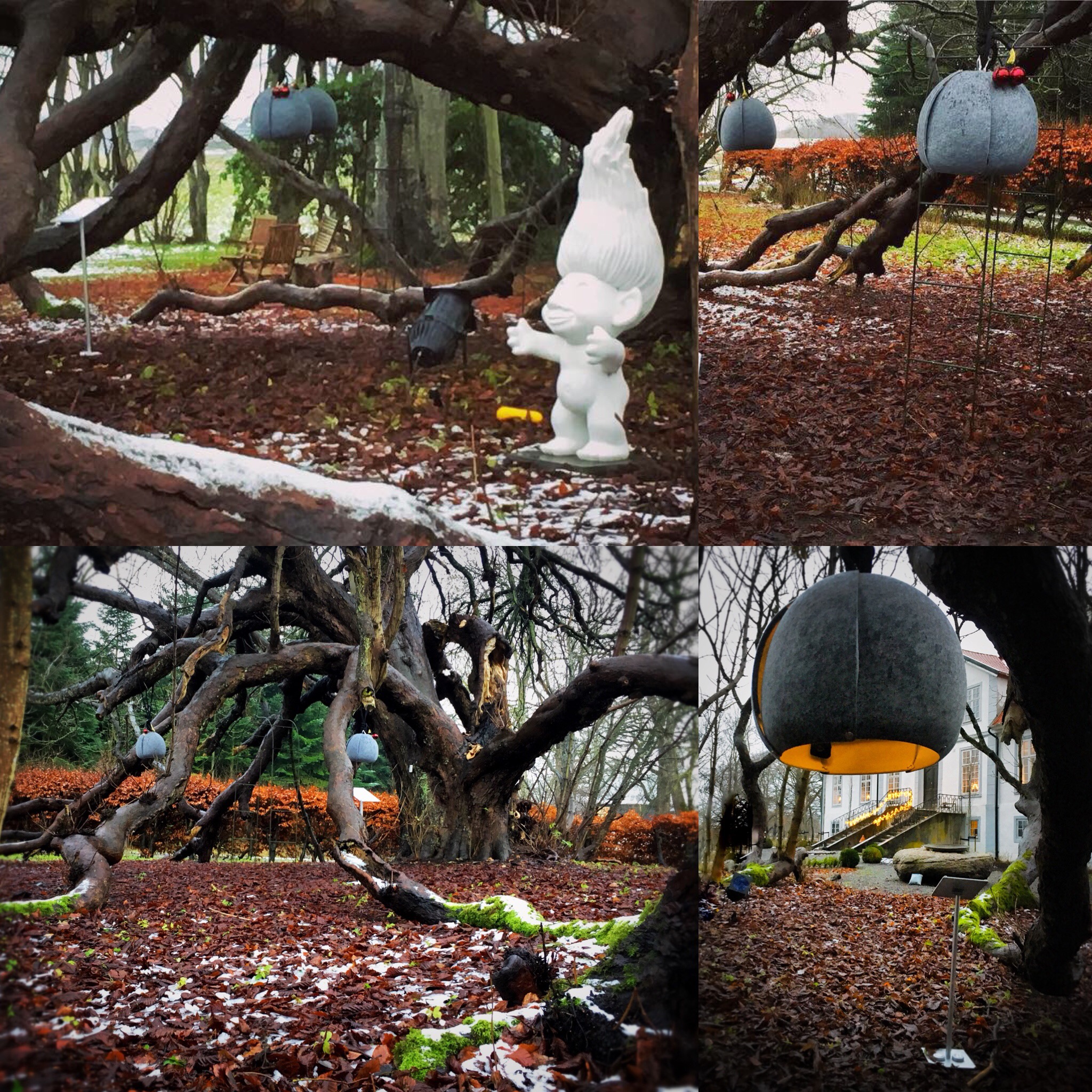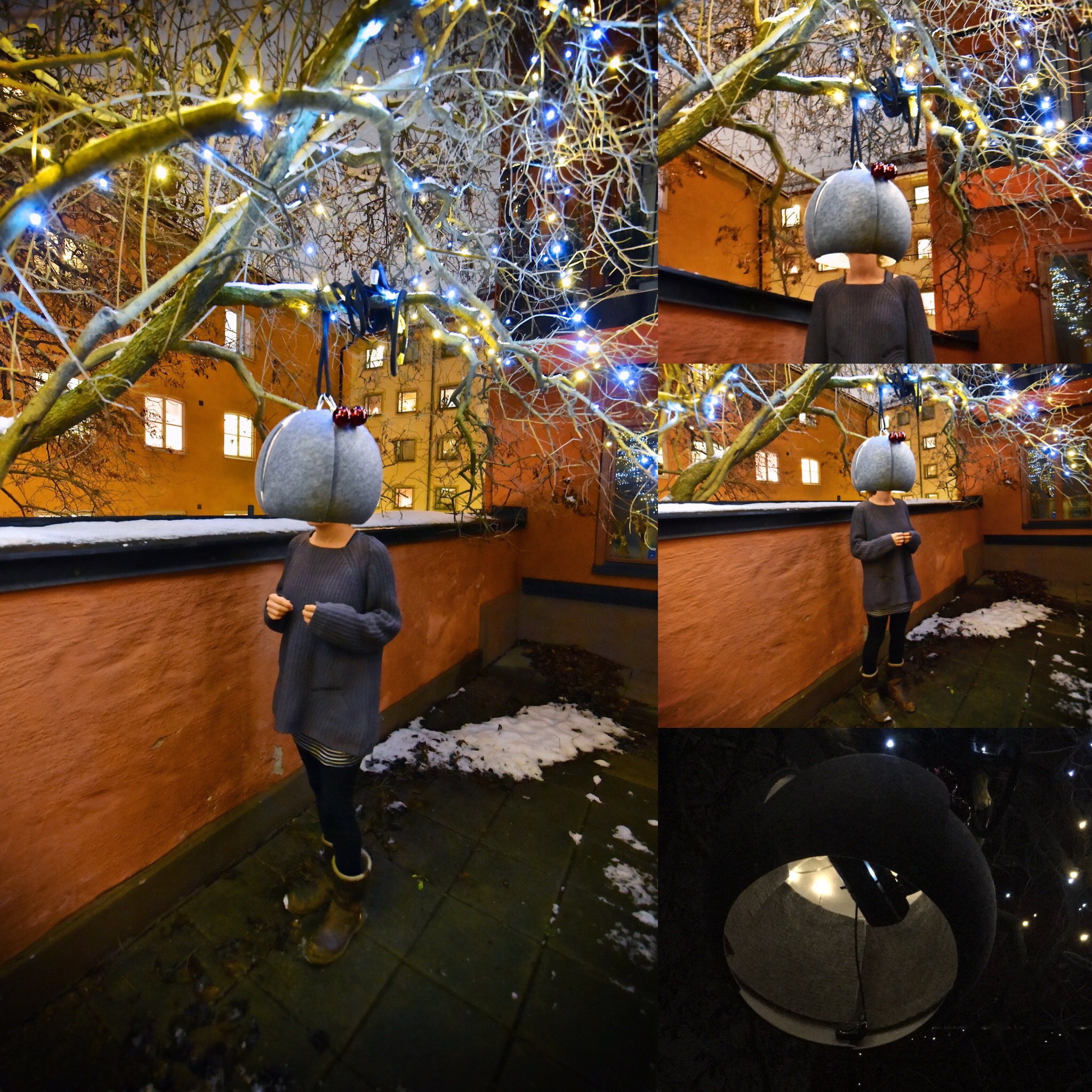 - During the festival Sound of Stockholm Konstmusiksystrar (Sisters in art music) did a collaborative sound installation featuring sound works from members Kajsa Lindgren, Julia Giertz, Aina Myrstener, Anna K Berglund and Charlotte Lundqvist. I designed the concept and visual appearance of the installation (with help from Caspar Hamilton/H&S, eventprint and FREA), Anna Hjalmarsson/Stoscha curated the selection, and Anna Jakobsson produced the installation.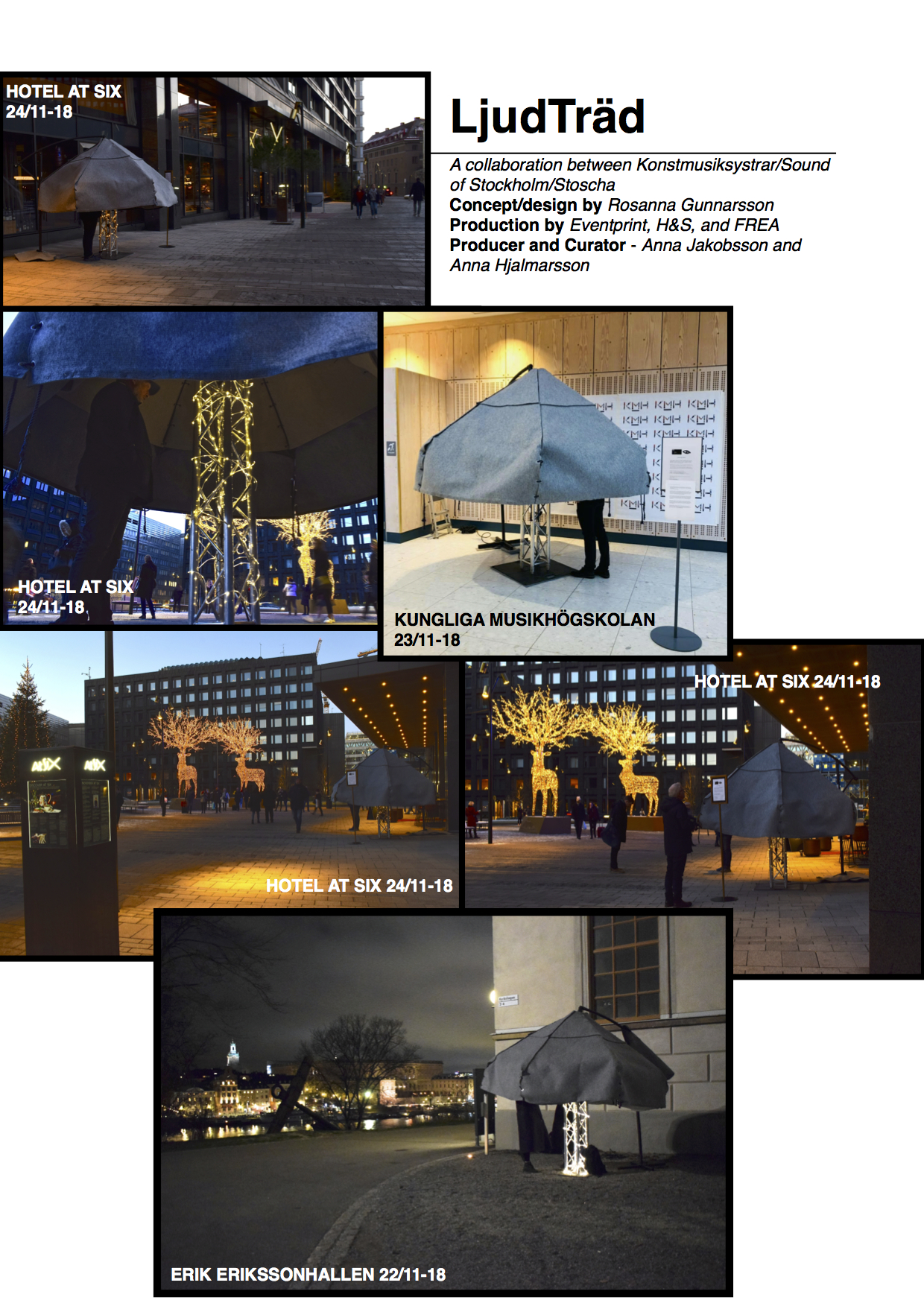 - My piece "Surfing soundwaves - Baltic sea" was played during the Swedish radioshow "Elektroniskt i P2" 29/10-17. The program can be heard here --> http://t.sr.se/2hf6yuf

- In september I was a part of Lofoten Sound art Symposium and their Artist in residency program. I also gave a screening of "Surfing soundwaves - Baltic sea". Read more about it here http://lofotensoundart.no/
- I'm currently engaged in a collaboration with the swimclub TäbySim where we are exploring the possibility of using movement-generated and adapted music as a training tool - enhancing race-performance and deep learning (supported by the swedish society of swimming).
- On april 27th my piece "Imagining a Grand Canyon" was performed by Jönköping sinfonietta, conducted by Christian von Gehren, at Kulturhuset Spira. It was a part of The society of swedish composer's annual orchestral presentation.
- I am now a part of MCV artist agency, you can see my profile here -> http://www.mcv.se/rosanna-gunnarsson-1/ and book either one of my pieces or something new through them!
- The flutist My Eklund played a new solo-piece for Contrabass recorder and electronics by me called "Vinterhamn" 7/4 in Uppsala at Gottsunda Dans och Teater, listen to the piece here https://vimeo.com/263712385
- On Saturday 10/3 my new piece "Geryones" was performed in Västerås Konserthus by soprano Kajsa Lindberg, accompanied by Arpad Solti on piano. Link to the concert: https://vimeo.com/259643156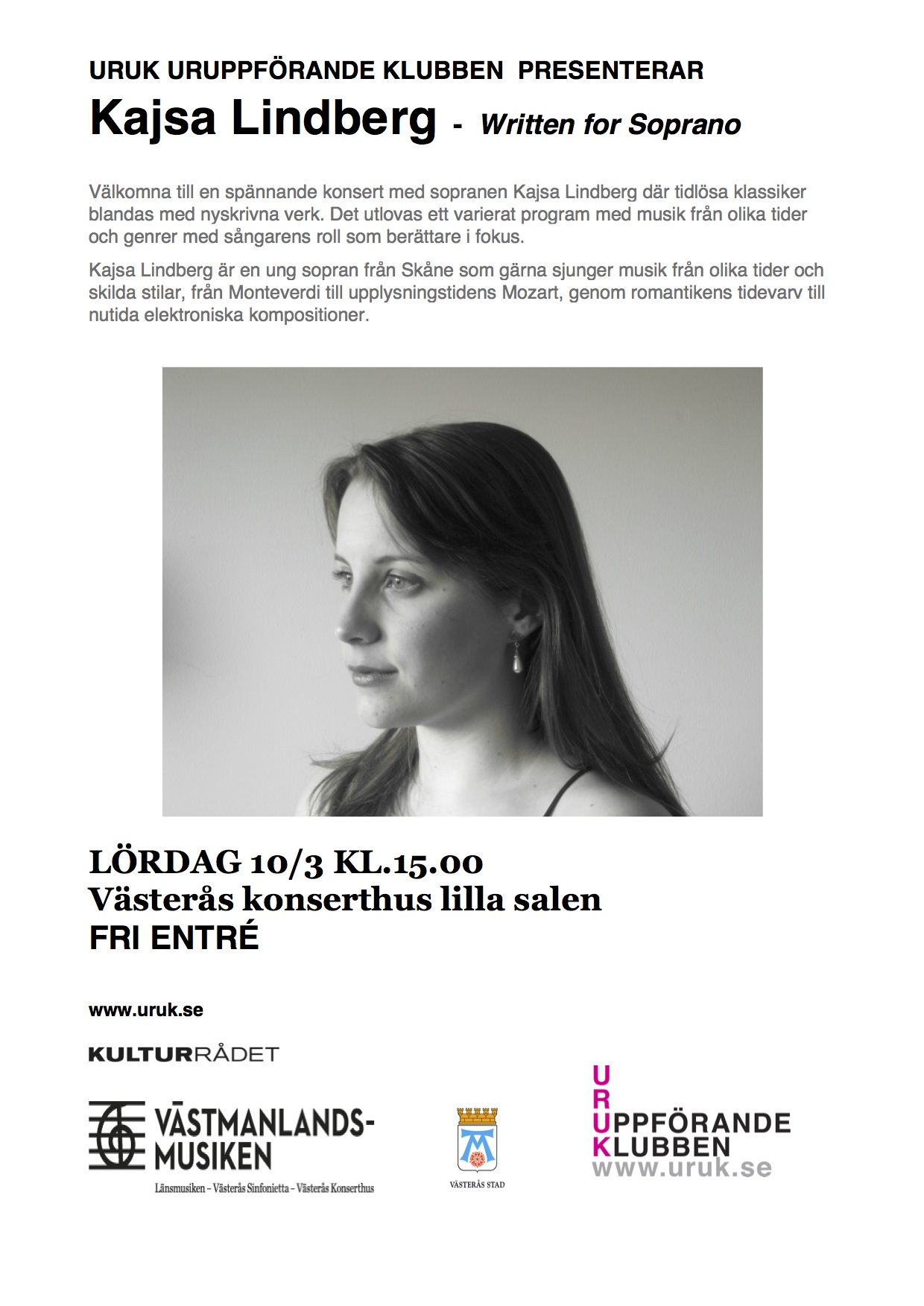 - On september 28th the Stockholm Saxophone quartet performed three of my pieces at a composer presentation in their studio at Tulegatan 53.

- I recently got elected into the Swedish society of composers (FST föreningen svenska tonsättare)! I'm very happy about that as it gives me another forum to meet and work together with my composer colleagues and friends. Check out my profile here --> http://fst.se/tonsattare/rosanna-gunnarsson
- From 3/6 to 3/9 an Exhibition called "Twirling Shadows" by photographer Peter Bodhi Anand Ullberg was shown at Mälsåker Castle. I made music inspired by the pictures and the castles that accompanied the exhibition. Read more about it below, and under "Showreal" you can hear the music.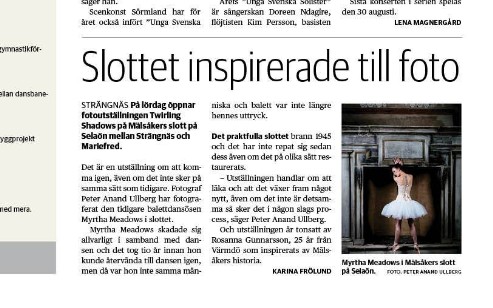 - 27-28/5 "Apnea" - a dive in sound was shown at Ljud och genusfestivalen in Gothenburg http://atalante.org/projects/konstmusiksystrar-%E2%86%92-ljud-genusfestivalen/
- My audiovisual piece "Apnea" - solo for baritone saxophone, was performed by Linn Persson (https://www.linnp.se/) 31/3 at Uppsala stadsbibliotek ---> https://vimeo.com/210941042
- My piece called "Surfing på svenska/Surfing in swedish" was performed by Jesper Nielsen (guitarr) and Isabell Gustavsson-Ny (piano) on march 18th in Västerås concert hall.
An article about it can be read here --> https://www.vlt.se/logga-in/surfing-pa-svenska-i-konserthuset
- Here's a link to a news report about my piece at Stockholm concert hall. It was aired on SVT 1 (swedish national television) 13/7-16 http://www.svtplay.se/klipp/9550110/konstmusiksyst...http://www.svt.se/kultur/musik/konstmusiksystrar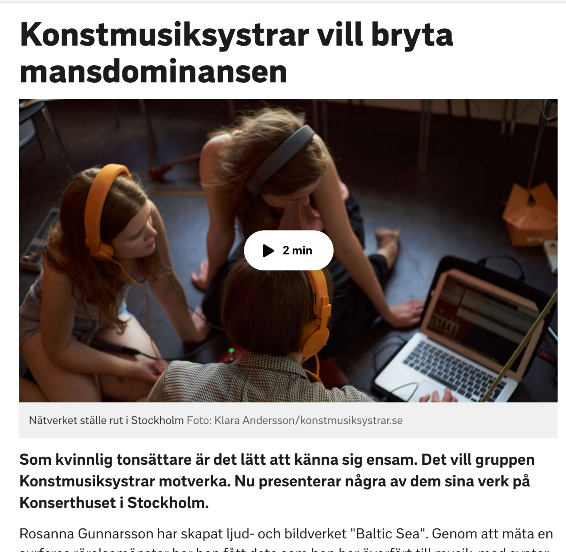 A "Kristallen" nominated (swedish television prize) tv-show on SVT where the intro-theme and additional music is made by me http://www.svtplay.se/video/10574780/sveriges-bast...

I have an instagram @composer_ontheroad were the idea is to capture moments of sound in my everyday life and on travels - go check it out!